1000 Volt IGBT Driver Board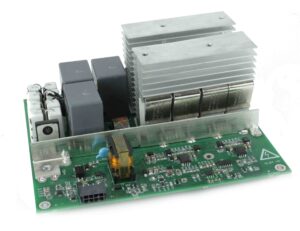 The 1000 volt IGBT Driver Board is designed for partial discharge applications in laser, intense pulsed light devices and many other high voltage discharge applications. The board combines high peak current capacity with a wide range of pulse widths in a compact, low cost device.
This board can be combined with any of the LCH series capacitor charging power supplies and the A-SIM-30-12, 30 watt flashlamp simmer for a complete easy to impliment system.
Typical High Voltage Discharge Circuit
This block diagram is a typical high voltage discharge circuit using the new 1000 volt IGBT Driver board along with the A-SIM-30-12, thirty watt simmer and an LCH series capacitor charging power supply.

Connector J1 Pin Assignments
Pin #

Function

Description

Common terminal for TTL, IN and OUT signals.

IGBT Board shut down. ON - pin floating. OFF – short to pin 4

24V Aux. power negative terminal

Input PWM control pulse. Type: TTL 3.3V, 5V Active – HI

Output Fault Signal. Type: open collector without pullup resistor. Active – HI

+24V Auxiliary power positive terminal
Input voltage vs. pulse width

1000 Volt IGBT Driver Board Specifications
1000 Volt IGBT Driver Board Layout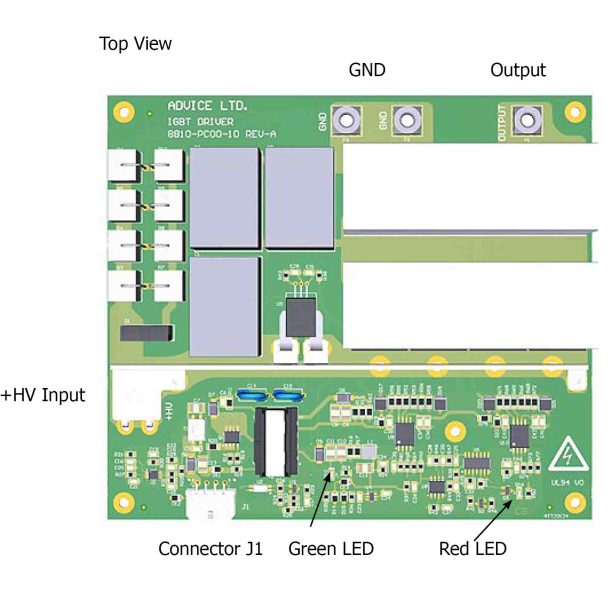 We offer all of the building blocks for your high voltage pulsed system